Sandipani Vidya Sankul, Saputara
A brief history and and latest information on Sandipani Vidya Sankul Saputara

Sandipani Secondary School, Saputara
Pujya Bhaishri supports the educational development of children especially in villages in India where a lack of education and resources are an issue. Sandipani Vidya Sankul, Saputara, is one such secondary school whereby priority is given to tribal children who cannot afford an education from Saputara and the nearby villages.
Sandipani Vidya Sankul, situated in Saputara, Dang District, was handed over by the Government by the then Education Minister of Gujarat, Shri Anandiben Patel, who was impressed with the progress made in the schools in Porbandar and Devka, to Shri Bharatiya Sanskruti Samvardhak Trust (BSST) on 14 September 2011 because the Government had not been able to achieve satisfactory progress since 1974. The Government handed over this school, to the Trust run under the guidance of Pujya Bhaishri, for the purpose of improving the school's administration and education.
Pujya Bhaishri's vision is to provide quality education to children from tribal villages and give them equal opportunity to enhance their lives.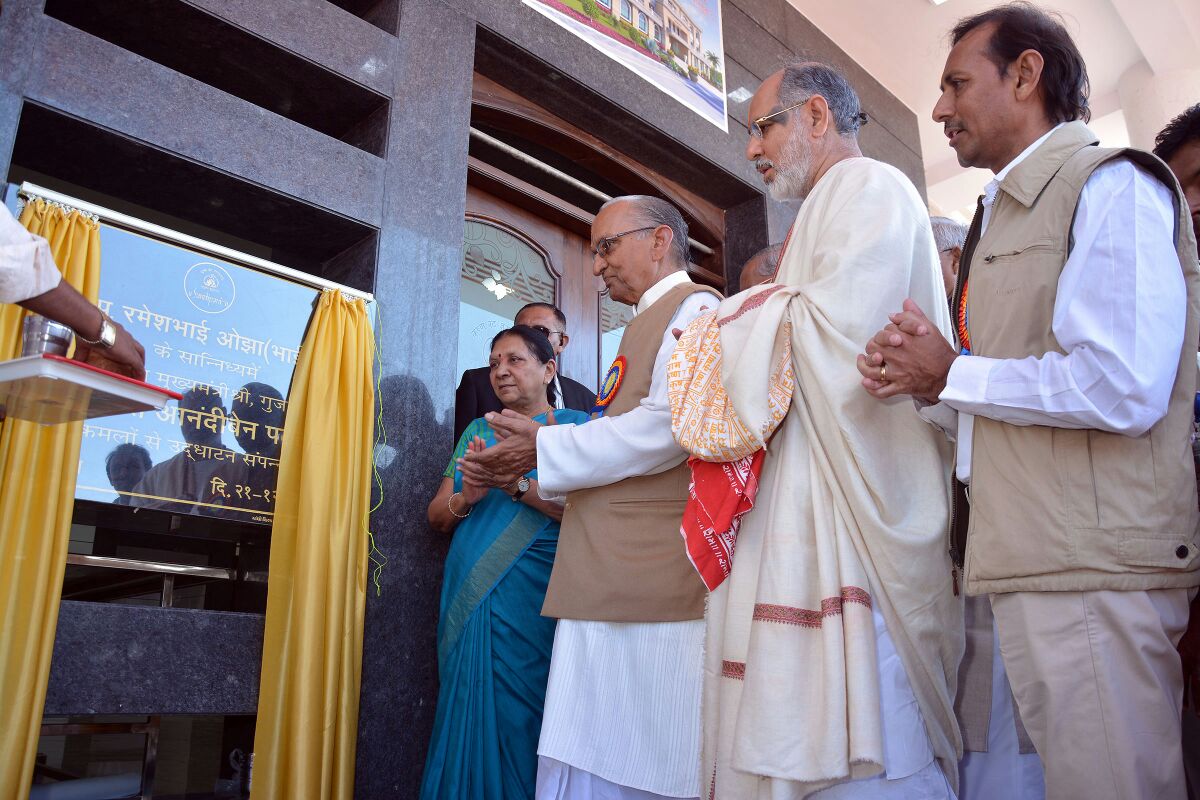 Inauguration of dining hall, assembly hall and hostel at Saputara by the then Chief Minister of Gujarat, Shri Anandiben Patel
Where We Were
When handed over, the school contained only two small buildings: one used as a school and one as a hostel. Pujya Bhaishri noticed that there was no kitchen, cooking took place in a broken building and students did not have an appropriate place to sit and have their meals. The food provided to students was not acceptable with uncooked rice and curries that mainly contained water.
There was also only one teacher for 100 students.
It was important that students receive nutritious food for their education, health and wellbeing. A new hygienic kitchen was built.  As the number of students began to increase, in 2014, a dining hall, assembly hall and another hostel were built to international standards and inaugurated by Shri Anandiben Patel, Chief Minister of Gujarat and the sponsor.  Also present were Shri D.H. Goyani, the Coordinator of the Institute, other dignitaries, as well as Pujya Bhaishri.

Where We Are With Sandipani Vidya Sankul, Saputara in 2018
Currently Sandipani Vidya Sankul at Saputara provides education from Standards 9 to 12 for 400 students.
The aims of Sandipani Vidya Sankul, Saputara are:
Improve the education of the local people;

Lead to social progression of local people and get rid of blind faith;

Increase employment and improve standards of living.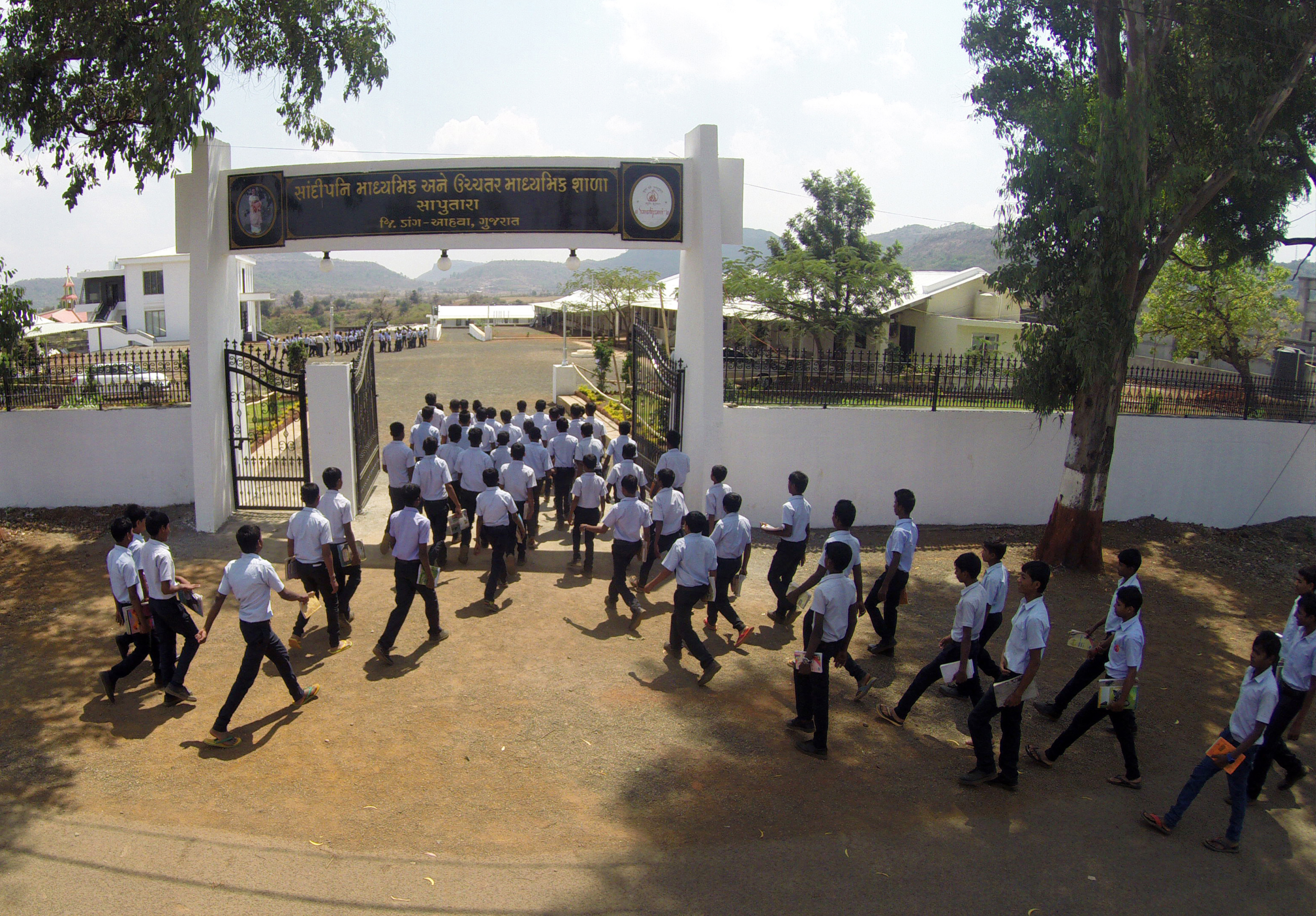 Students of Sandipani Vidya Sankul, Saputara, Gujarat
Education, accommodations and all the facilities are entirely free of cost to encourage the tribal children to attend and grow. Only 25% of the cost, Rs. 1,000,000 per year, is received from the Government, as a granted school. The remaining costs, approximately, Rs. 3,500,000 per year must be provided by BSST through donations.
As the number of students increased, the number of teachers has also increased. The school continues to look for more well-qualified teachers to support the education of our children in our villages.
Results in the school have improved over the past three years. Students in this school now also partake in extracurricular activities such as singing, drama, dance and sports. The school is rated one of the best in the area. Government conferences are also held here.
When the then Chief Minister of Gujarat, Shri Anandiben Patel, visited the school, she was extremely pleased to see the progress and outcomes. Our recent Education Minister of Gujarat, Shri Bhupendrasinh Chudasama, visited the school in 2017 and was also pleased with the progress being made.
 On 15th June 2018, Pujya Bhaishri's vision for Sandipani Vidya Sankul at Saputara was accomplished with the inauguration of a new school building in the presence of the Chief Minister of Gujarat, Shri Vijay Rupaniji, The Governor of Madhya Pradesh, Shri Anandiben Patel, Shri Gurusharananandji Maharaj and other dignitiaries.

The opening of the new school building will enable the old school building to be converted into a hostel in order to provide improved accommodation for the students. Pujya Bhaishri's vision is to increase the number of students to at least 500 at the school.
Watch the video on the inauguration of the new school building.
Although many cities have good schools, there is a dire need for good schools in villages. Children in villages have an equal right to good education and they need to be given equal opportunities to progress themselves.
Pujya Bhaishri compares the process of education with that of giving shape to an earthen pot. He said that just as the process of giving shape to the earthen pot is a continuous process, similarly, humans are moulded every moment of their life. Every challenge in one's life makes the individual stronger. It is imperative that teachers are trained to a high standard and create an atmosphere in school such that students eagerly await the first bell signalling the beginning of their day at school instead of the last day that brings their day at school to an end.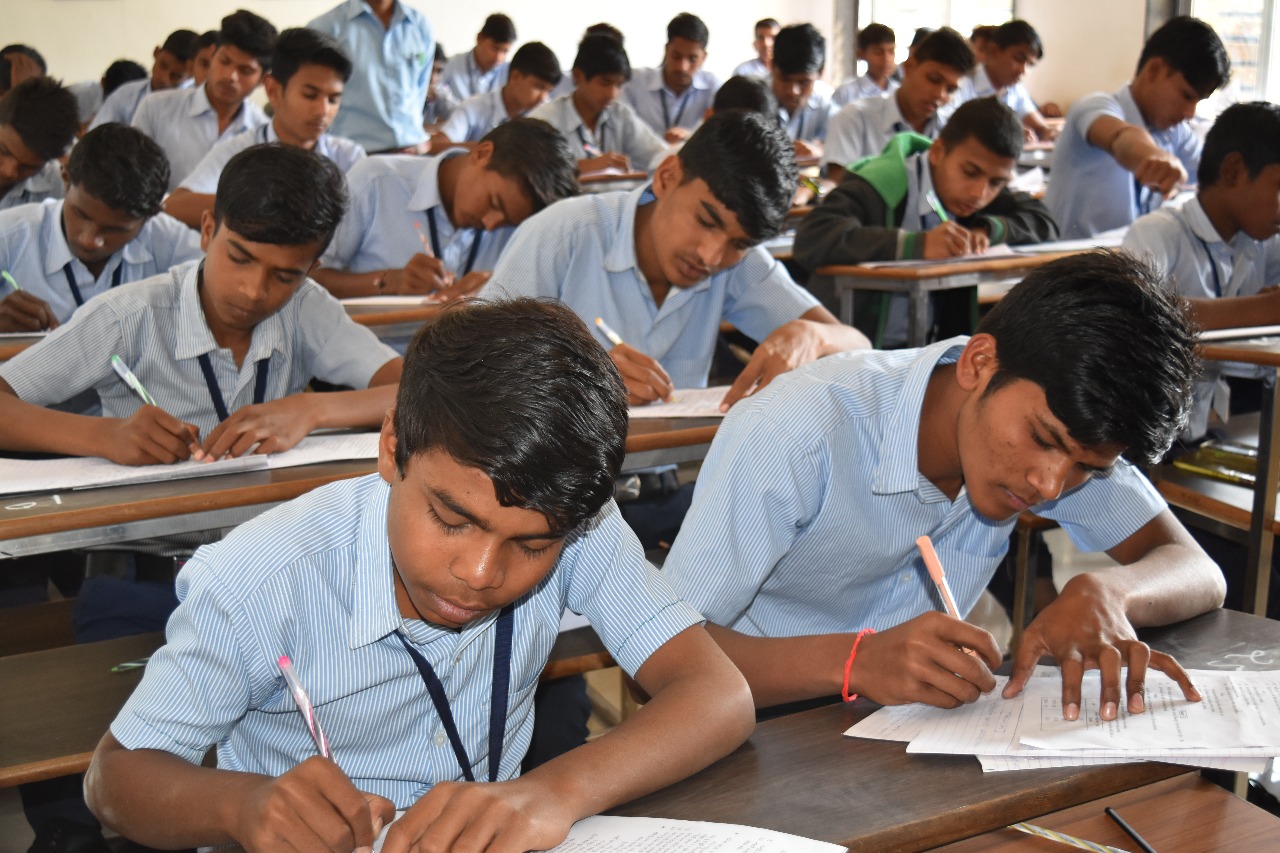 Students at Sandipani Secondary School, Saputara
You are invited to join us in this Vidya Yagya and Sponsor a student
Sandipani Vidya Sankul at Saputara does take seva contributions from people willing to see the stability and educational growth of these students in the small village of Saputara.

The costs include: education, accommodation, food and uniform for all students. You may support us online or contact us on the details above should you require any further information.
The school is also in need of more highly qualified teachers.  For further details on admission, supporting us or other information, please contact us on +91 909 996 6288 or +91 909 996 6253.