3 Causes for Concern in our fight against Corona | Pujya Bhaishri Rameshbhai Oza
Addressing the need for increased caution, but not fear, Pujya Bhaishri cites three causes of weakness in our collective fight against the renewed surge of Corona virus around the world and indeed, in India, at this time- fear , carelessness and panic.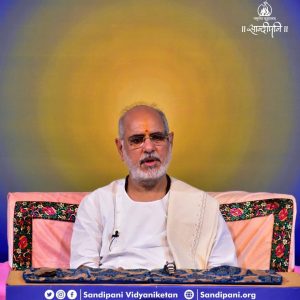 Fear is said to be another name for Death and rather than weaken ourselves with this it is important to increase vigilance instead.
Carelessness- The deadliness of this second-wave could be averted were we to religiously follow the three vital safety protocols of safe social distancing; regular sanitising; and suitably wearing masks. It is time to do so now.
Panic- be it over-crowding bazaars with panic buying and hoarding of supplies and medicine, this mayhem disturbs systems and places an unnecessary burden on health infrastructure.
Speaking from Sandipani Vidyaniketan (Porbandar) on 19th April, 2021 Pujya Bhaishri urged all to be mindful of the enormous efforts of Corona Warriors and indirectly assist all Doctors and the Government by making cautious choices to be safe and keep others safe.
Remember that all circumstances are due to change- this too shall pass and whilst keeping faith in the Lord, we must also commit to fighting this virus with an alert dedication to one another and ourselves.
Cultivating a spirit of helpfulness for others and strong positivity within ourselves, we develop an energy to overcome selfishness and negativity.
PujyaBhaishri #COVID19 #CautionNotFear