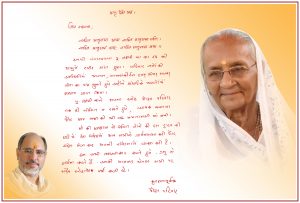 Translated:
The divine body of our Pujya Baa like Maa Ganga rested at 89 years of age. She rested at the lotus feet of Shri Hari in the presence of the entire family with bhajan, singing God's name and recitation of Shrimad Bhagavad Gita.
Pujya Laxmi Ba did not confine her love to just the Oza family but spread it to everyone. She became the loving mother to all.
All of you have presented your love through messages and holding prayers in these moments of sorrow of having lost the protection of mother.
Accepting all the debts, we pray to Shri Hari that may her consciousness continue to bless all with her divine love.
Indebted to you all,
Shri Oza Family.
For those who missed the live telecast of the prayers, you can now watch it onyoutube:
https://www.youtube.com/watch?v=K2jP2JrJo24
The recent prayers held at Sandipani will also be uploaded soon.