Our Rishikumars win Gold, Silver And Bronze in State Level Sanskrit Competition
The Government of Gujarat organised a state level 2015 Sanskrit elocution competition. We hearteningly reveal that the Rishikumars of Sandipani Vidyaniketan fared brilliantly in these competitions. Out of the total 24 categories in which the Rishikumars of Sandipani participated they won 7 Gold medals, 6 Silver medals and 6 Bronze medals thus taking the total tally of medals won by them to 19.
His Excellency, the Governor of Gujarat, Shri O. P. Kohli, Mahant Rakeshprasadji Maharaj of Vadtal and founder of Chharodi Gurukul Shri Madhavpriyadas Swamiji graced the function that was organised to honour the winning contestants. These dignitaries gave away the medals and the certificates of honour to the winning contestants.
ThePrincipal of Babadeshwar Sanskrit College Dr. Gaurishankarbhai Joshi who is constantly engaged in endeavours for the preservation and propagation of Sanskrit had taken special interest in guiding the students for this competition.
Congratulating the Rishikumars for their special achievements Pujya Bhaishri also conveyed his sincere joy and satisfaction to them. The trustees and the professors of the institute also congratulated the participants.
The list of the winning Rishikumars and the categories of their participation is given below.
Gold Medalists
| | | |
| --- | --- | --- |
| Subject | Name of Rishikumar | Class in School |
| Conversation in Sanskrit | Bhatt Parth P. | Third year Shastri |
| Writing Competition | Joshi Rajan H. | Second year Shastri |
| Ashtadhyayi recitation | Mehta Akshaya H. | Second year Shastri |
| Literature Writing | Joshi Manoj R. | Second year Shastri |
| Raghuvansh Recitation | Pathak Samir J. | Second year Madhyama |
| Vedanta Dialogue | Mehta Sunil N. | Third year Shastri |
| Shloka Antakshari | Chavdagor Kalpesh D. | Third year Shastri |
Silver Medalists
| | | |
| --- | --- | --- |
| Subject | Name of Rishikumar | Class in School |
| Nyaya Sambhashan | Bambhaniya Prashant P. | Third year Shastri |
| Sankhya Sambhashan | Joshi Mayur K. | Third year Shastri |
| Ashtadhyayi recitation | Khambholta Utsav H. | First year Acharya |
| Dharmashastra Sambhashan | Teraiya Dishant J. | Second year Shastri |
| Raghuvansh Recitation | Pathak Samir J. | Third year Shastri |
| Jyotish Shalaka | Vyas Harin J. | Third year Shastri |
| Bhagavad Gita Recitation | Mehta Ajay H. | First year Shastri |
Bronze Medalists
| | | |
| --- | --- | --- |
| Subject | Name of Rishikumar | Class in School |
| Mimamsa Sambhashan | Pandya Chirag D. | Third year Shastri |
| Mimamsa Shalaka | Bhatt Arjun S. | Third year Shastri |
| Vedant Shalaka | Mehta Pratik G. | Second year Shastri |
| Puran Shalaka | Joshi Shivam R. | Second year Shastri |
| Amarkosh Recitation | Mehta Kuldeep V. | First year Shastri |
| Nyaya Shalaka | Purohit Kishan B. | Second year Shastri |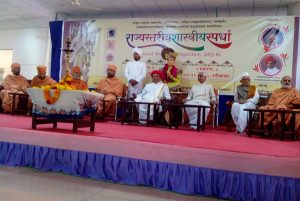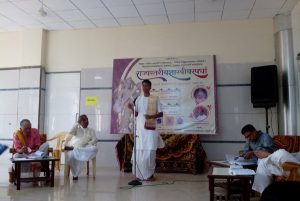 Share this event: