Patotsav and Mandir Mahotsav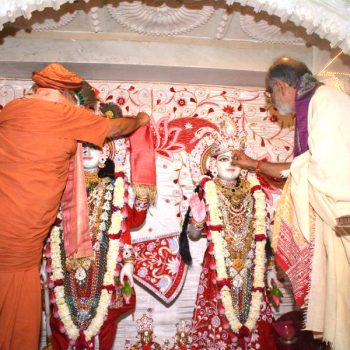 Worship of the deities during Patosav 2016
Patotsav is the day that commemorates the consecration of deities and re-invoking of God in the deities in the temple. This occasion at Shri Hari Mandir is celebrated every year on the anniversary of the day the temple was inaugurated on February 1, 2006.
The Lord is adorned with new costumes, offered special food, along with bathing of the deities with saffron water, worship and Abhishek of all the deities amongst the recitation of Vedas, divine sounds of conches, bells and drums.
In addition, religious discourses, scholarly lectures, a Yagya of nine altars (Nav kundi Yagya) dedicated to one of the deities in the temple, free medical camps, Annakut (offering of a variety of foods), Sandipani Gaurav Awards and cultural programmes including music, dance and drama make it a memorable three to seven-day experience for all attending. Devotees from across the globe participate in this celebration.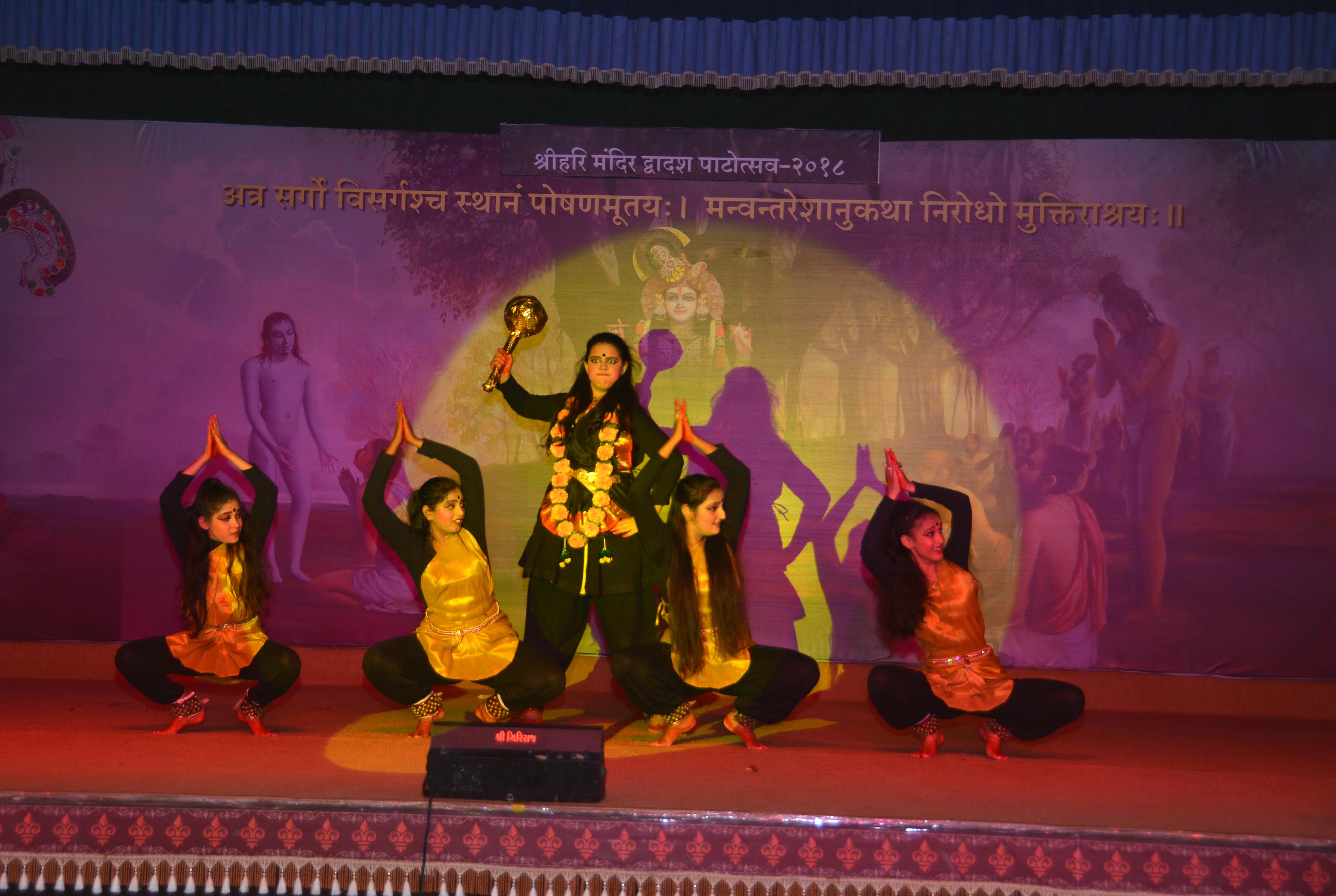 Cultural programme during Patotsav 2018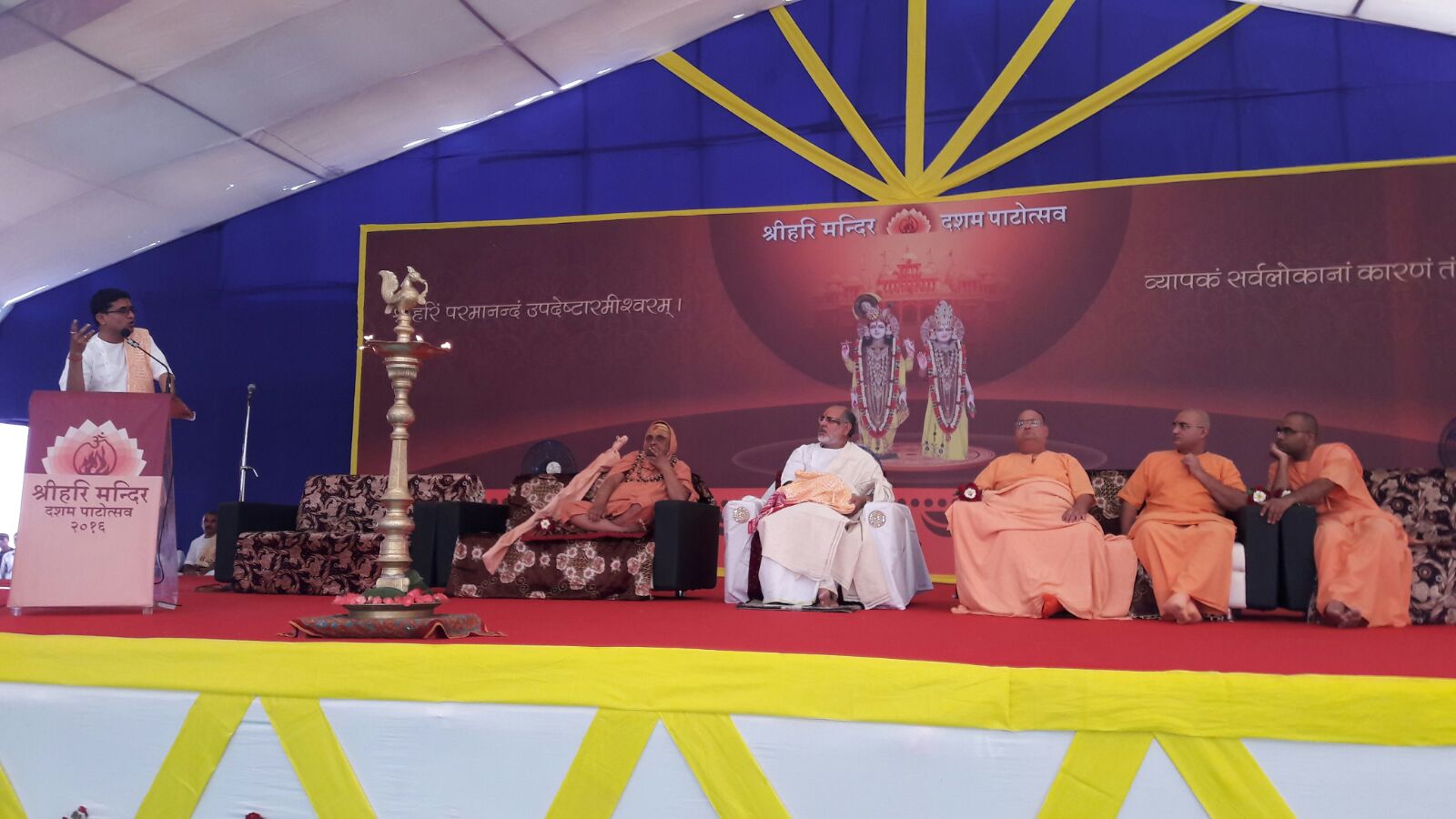 Lecture by our former Rishikumar, Bharatbhai Shilu during Patotsav 2016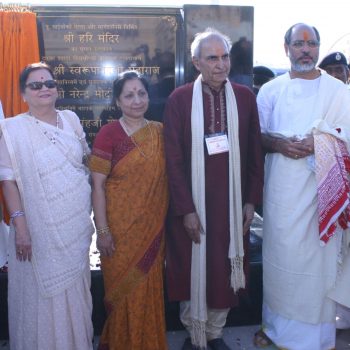 From left to right – The then Chief Minister of Gujarat, Shri Narendra Modiji, the then Honorable Vice-President of India Shri Bhaironsinghji Shekhawat, Smt. Kokilaben Ambani, main sponsors Smt. Sarlaben and Shri Tansukhbhai Ganatra, Pujya Bhaishri and Shri Mukesh Ambani inagurating the Shri Hari Mandir on 4th February, 2006
Mandir Mahotsav – The Grand Opening of Shri Hari Mandir
Mandir Mahotsav was a fourteen-day ceremony organised for the inauguration of Shri Hari Mandir on February 1, 2006. It is an event that is etched into the history of Sandipani.
The celebrations began with a grand Shobha Yatra and fireworks. On the following day, the consecration rituals of the deities in Shri Hari Mandir took place in the presence of many highly revered saints. On 4th February 2006, the doors of Shri Hari Mandir were opened to the public by the then Vice President of India, Shri Bhairon Singhji Shekhawat and the then Chief Minister of Gujarat, Shri Narendra Modiji.
From 5th to 12th February 2006, Pujya Bhaishri narrated a Shrimad Bhagavat Katha whilst 1,153 Brahmins recited the verses of the entire Bhagavat. Revered saints from all over India including Pujya Karshni Gurusharananandji Maharaj, Pujya Morari Bapu, Pujya Swami Chidandand Saraswatiji, Pujya Ramdev Baba and many others congregated to share their wisdom and world-renowned artists gave soul stirring dance and musical performances.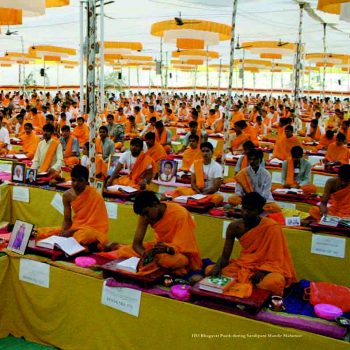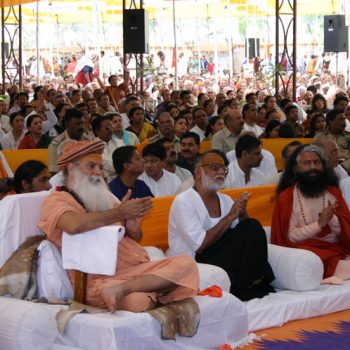 Revered saints and devotees listening to Shrimad Bhagavat Katha by Pujya Bhaishri during Mandir Mahotsav
The ceremony ended on 13th February with a divine Lakshminarayan Yagya and on the 14th February with a trip to Dwarka for the raising of the divine flag atop the Dwarka Mandir of Lord Krishna.
More than 900,000 people in total visited Sandipani over the two weeks. Sandipani became a town in which more than 7,000 people stayed on the campus and over 50,000 people had daily meals. The event was also graced with dignitaries such as Shri Anil Ambani, Smt. Kokilaben Ambani, Shri Amitabh Bachchan and his family.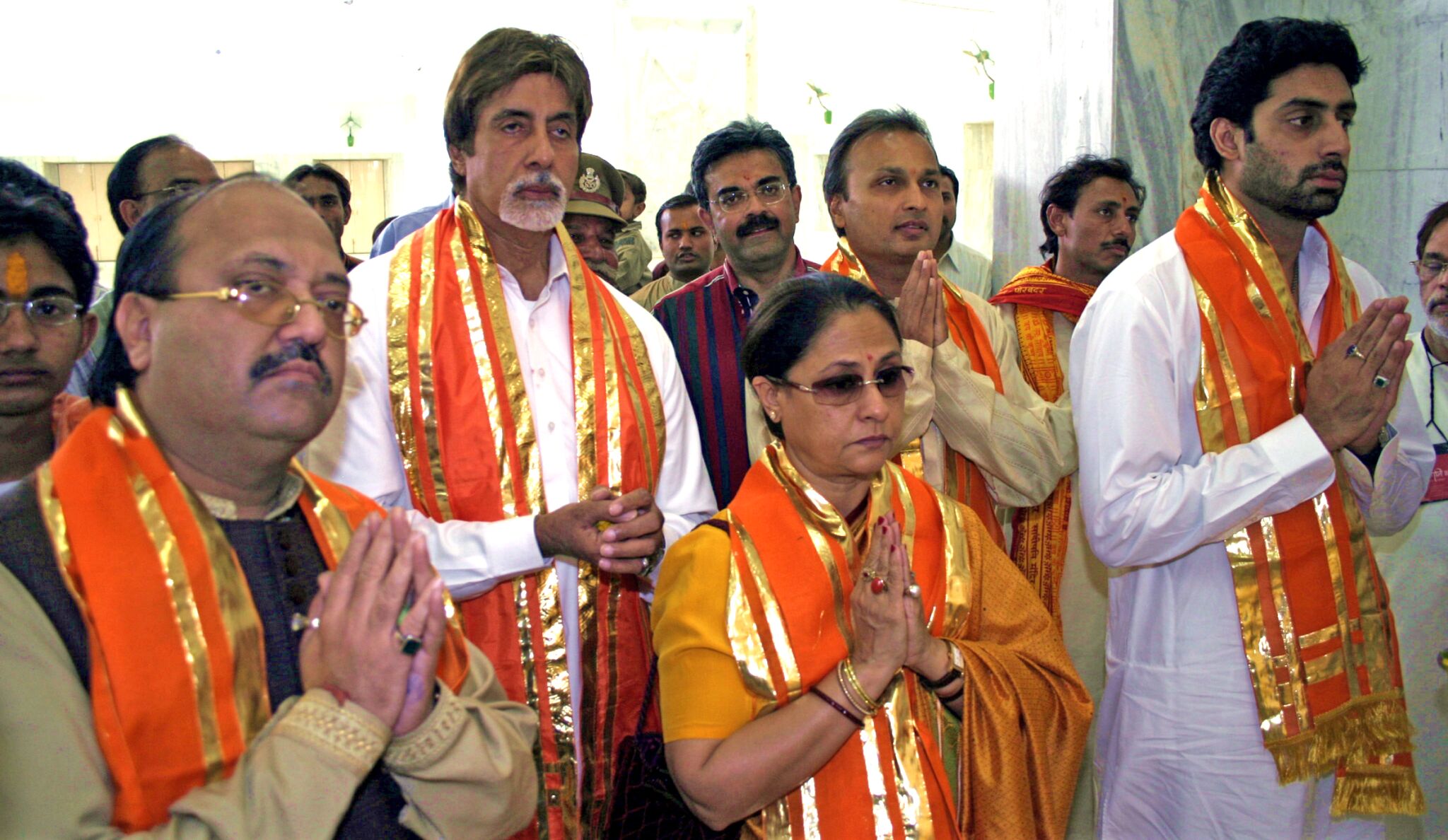 From left to right – Shri Amar Singh, Shri Amitabh Bachchan, Smt. Jaya Bachchan, Shri Anil Ambani and Shri Abhishek Bachchan at Shri Hari Mandir on 9th February 2006