Sundarkand—Strength in Adversity

'Swagatam Shri Ram Katha' Sundarkand Paath 6/6 by Sandipani Vidyaniketan and Sanskruti Foundation UK, recited by Rishi Shri Shyambhai Thakar.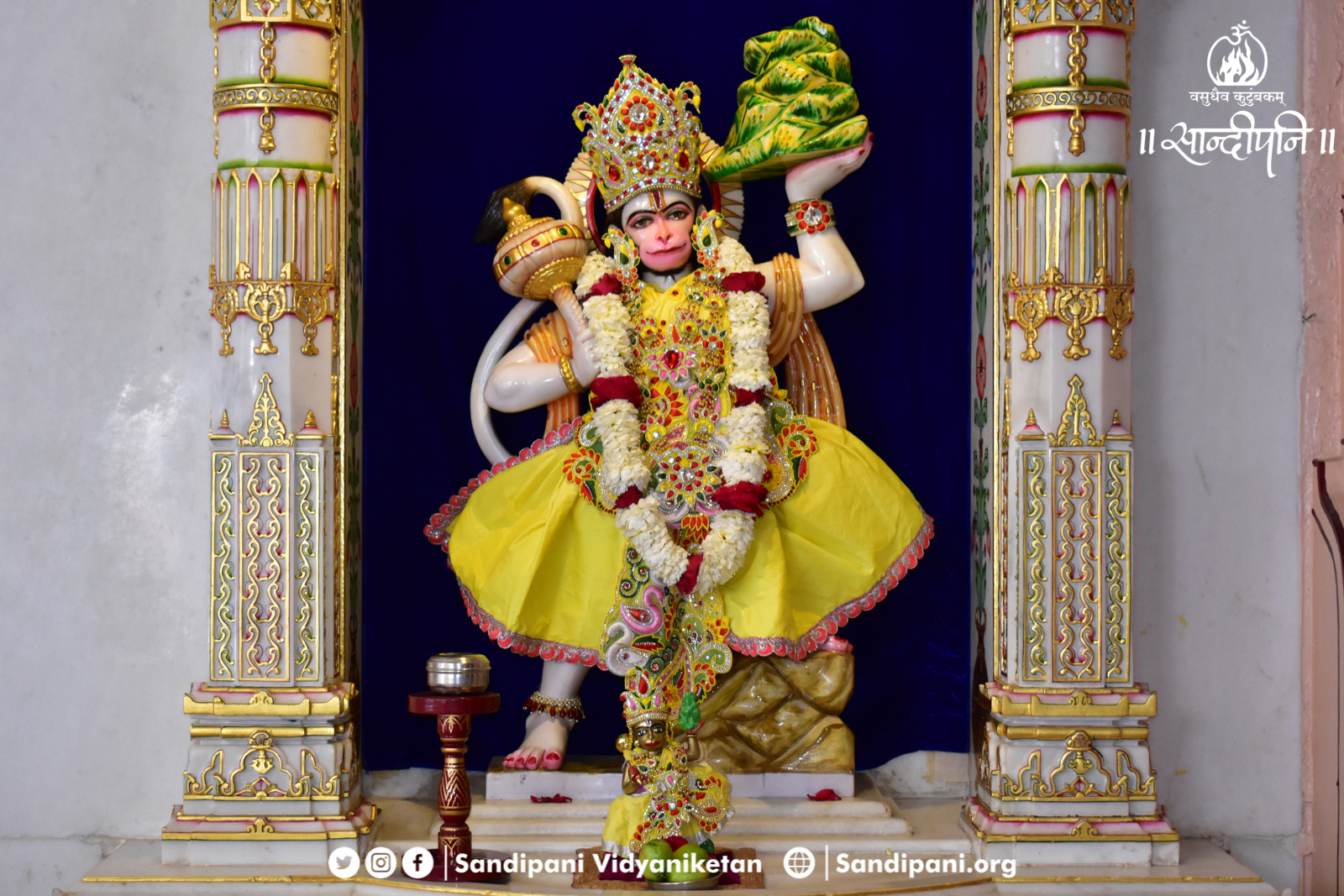 As part of the 'Swagatam Shri Ram Katha' (February 13th-21st, 2021), the sixth of six devotional chantings to invoke the Grace of the Lord, concluded on Saturday, February 6th, 2021, with devotees from around the world and primarily from the United Kingdom, joining this virtual event.
In his address, Pujya Bhaishri expressed his happiness to see this heartfelt worship of Śrī Hanumānajī to welcome the Śrī Rāma Kathā, which shall certainly please the Lord, and fill us with faith and strength to face adverse circumstances with inner strength.
As mentioned by Śrī Shyambhai, the fifteenth Patotsav of ShriHari Mandir is being celebrated with a fifteen-day celebration—these six three-hour sessions of Sundarakāṇḍa, preceding the upcoming nine-day Śrī Rāma Kathā. This is perhaps the first time the Lord's arrival, in the form of His Katha, has been welcomed and celebrated with such devotion and enthusiasm!' remarked Pujya Bhaishri. He cited the various pre-Śrī Rāma Kathā events hosted in India, in the UK, and around the world; and continuing in this week leading up to the Kathā commencing on February 13th, 2021.
Pujya Bhaishri remembered and blessed all six talented and dedicated Kathākara Ṛṣīs who led the various musical recitations of the Sundarakāṇḍa Pātha for global devotee chapters:
Echoing Śrī Shyambhai's remarks, Pujya Bhaishri noted that all-in-all, we are offering fifteen devotional sessions in the Lord's lotus feet to celebrate the completion of His fifteenth year of manifestation in ShriHari Mandir for us.
Sanskruti Foundation UK have taken the lead role in the organisation of this Śrī Rāma Kathā, and are working to connect organisations and devotees around the world who wish to join this Yagya. The inter-connection and cooperation of our Various Trustees, devotees, youth volunteers and patrons is a reflection of our unity. Just as we use our own various limbs for various tasks, all of these regional devotee centres are the limbs of Sandipani Vidyaniketan, itself, expressed Pujya Bhaishri.
Why are we raising awareness of our various educational projects in rural and tribal areas? Pujya Bhaishri asked, in relation to the upcoming Śrī Rāma Kathā, and its purpose. As it is our policy to not appeal nor ask for funding, many devotees approach Pujya Bhaishri to ask ask why they are not made aware of these opportunities and efforts. Thus, the information shared is to ensure that all may be equally aware, and whoever wishes to join, therefore, becomes a 'Yājaka'. There is no giver or taker here; this is our collective worship, as it is all the Lord's divine play (līlā). Along with Satsang, this is as much sevā as we are able to offer.
Pujya Bhaishri also mentioned the showcasing of the work in rural education and for girls being done in high school, science and commerce college, and ITI, at Devka Vidyapeeth, where the education is entirely free for girls.
Pujya Bhaishri ended with a prayers to the Lord that for contrary circumstances, may we keep our minds strong and filled with faith, so that we may staunchly remain steadfast in His feet even during such times. Certainly, Rāma Kathā shall guide us in this, and with the Lord's Grace, we shall increasingly be able to experience His eternal presence.
|| Śrī Sītā Rāma Śaraṇam ||
The event commenced with a welcome video address by Śrī Bhupendrabhai Kansagara, Chairman of Sanskruti Foundation UK—which is the co-host of this final Sundarakāṇḍa Pātha, which was held on February 6th, as well as the host of the Śrī Rāma Kathā, which will be taking place from February 13th-21st, 2021. Śrī Bhupendrabhai shared the difficult times that the world-at-large, and the United Kingdom in particular, with the current lockdown and pandemic, are facing. He spoke of this Śrī Rāma Kathā to be a timely boat coming to save those drowning in the ocean of sorrow. The event concluded with a Hanumāna Cālīsā recitation on behalf of the youth of the UK.
The musical team who accompanied Śrī Shyambhai included: Śrī Balabhai; Śrī Mukeshbhai; Śrī Dharmeshbhai; Śrī Aalabhai and Ṛṣīkumāra Śrī Utsavbhai.
The event was anchored by Śrī Hardikbhai Joshi, who extended a vote of thanks and blessing to all team members actively participating in making this a success—Nimisha Sadhu; Śrī Abhaybhai Joshi; Depeshbhai Patel; Shivani Suchak; Homny Dhirendra; Rajesh Purohit; Pragneshbhai Lakhani; Richilbhai Laxmidas; Ṛṣīkumāra Mayurbhai Odhedara.
Special thanks to our technical team—Hemantbhai Suraiya, Yashbhai & Video Specialties Team
Recap on Swagatam Shri Ram Katha' Sundarkand Paath 6/6 here