True Surrender of Raja Bali 
(Hari Toshan Vrat Dvij Sevakai)
– Shlok of the Week 16 – Shrimad Bhagavat – 8.19.1-3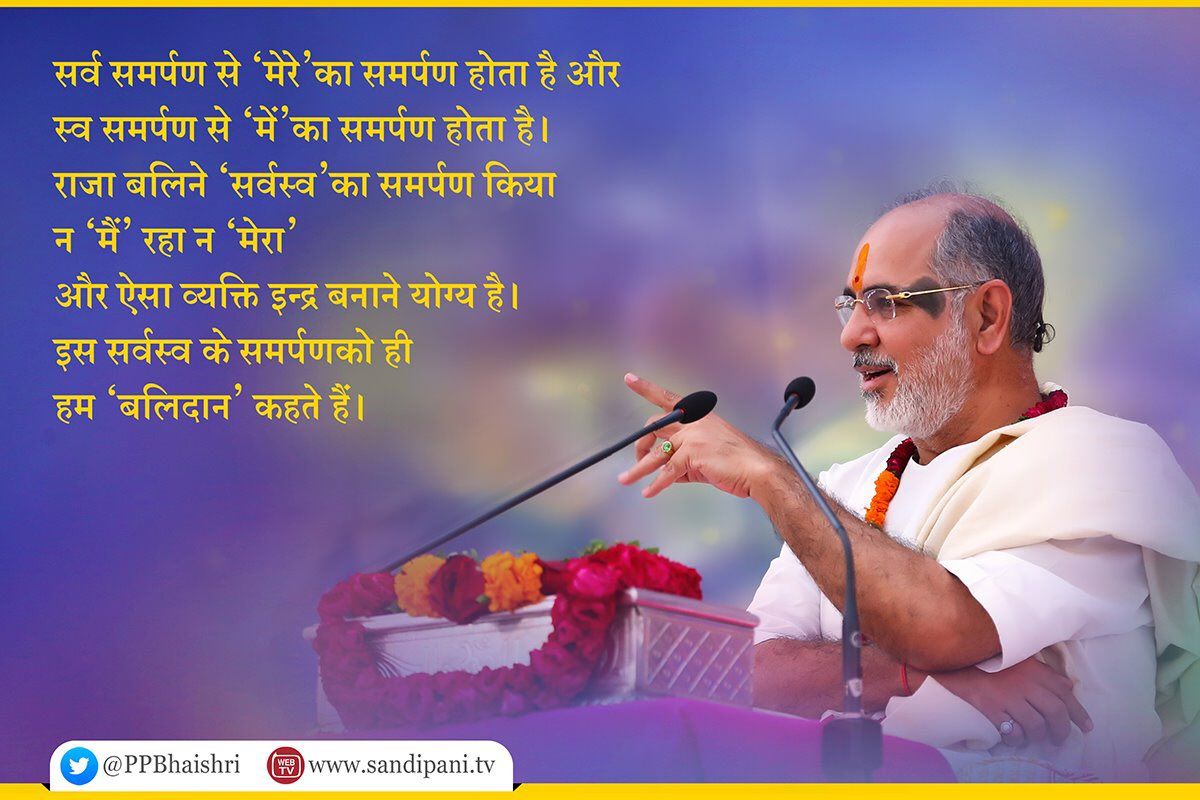 'One gives up the sense of 'mine' by giving up one's possessions and one gives up the sense of 'I' by surrendering one's own self. King Bali offers his ALL – neither me nor mine remain – and such a person is fit to be made ruler. Complete surrender is thus named after Him as 'balidāna' @PPBhaishri 
Who is Raja Bali and what is he famous for?
⚫ Rājā Bali is the mighty ruler of the demons, disciple of Śukrācārya, son of Virocana, the grandson of the great Daitya King Prahalāda and great-grandson of the fearsome son of Diti (Hiraṇyakaśipu).
⚫ King Bali is most famous for granting and honouring his pledge of three paces of land to Lord Viṣṇu who approached him at his Yagya in the form of a dwarf (Vāmana). He did so against the advice of his preceptor, Śukrācārya, considering a chance to serve the Lord the greatest honor and one he was honor-bound to fulfill – no matter what the personal cost to him may be!
⚫ Bali worshipped Brāhmaṇas as he was born in the lineage of a great devotee, which was committed to Dharma and devoted service to Brāhmaṇas, even at great personal cost to themselves (as proven by Virocana who knowingly gave up his life in alms when asked for it by the Devatās in the guise of Brāhmaṇa – ref: Śrīmad Bhāgavatam 8.19.14)
⚫ King Bali sought the position of Indra, or ruler of heavens, which can be earned by performing one hundred aśvamedha Yagyas (hence the title "śakra" refers to "śat kratu" or performer of one hundred Vedic sacrifices). Under the guidance of the son of Bhṛgu (Śukrācārya), on the banks of the sacred River Narmada (who grants sure success to all Karma), a grand Yagya was being performed by knowledgeable Brāhmaṇas at a sacred spot called "Bhṛgukacca".
⚫Knowing that King Bali is established in truthfulness, in Dharma and in his duty towards Brāhmaṇas, Lord Viṣṇu knew that the only means to gain anything from him is by asking for it in alms, as he could not be defeated in any other way. Such is the protective armour of Dharma!
nāhaṃ bibhemi nirayān
nādhanyād asukhārṇavāt
na sthāna-cyavanān mṛtyor
yathā vipra-pralambhanāt 
ŚB 8.20.5
⚫ "Indra-in-waiting"- In the upcoming eighth Manavantara (or period of time), Rājā Bali shall become the ruler of heaven, occupying the post of Indra, as pronounced by the Lord (ref: Śrīmad Bhāgavatam 8.13.12). Until then, he lives in Sutala Loka with his grandfather Bhakta Prahalāda for company and the Lord Himself as his protector. Mother Lakṣmī ties him a Rakṣābandhana to ensure his safety.
tatra devāḥ sutapaso
virajā amṛtaprabhāḥ
teṣāṃ virocana-suto
balir indro bhaviṣyati 
ŚB 8.13.12
The Cause of Lord Vaman's Manifestation
⚫ Mother of the Devatās and wife of Ṛṣi Kaśyapa, Aditī Mātā is overcome with compassion seeing the emaciated state of her sons when they are ousted from Heaven by Bali and no longer receive the nourishment of their share of Yagya offerings. She seeks a remedy from her husband and accordingly undertakes the sacred twelve-day fast of Payovrata (also known as 'Sarva Yagña') to please the twelve-limbed Lord Viṣṇu worshipping Him with his mantra consisting of twelve syllables (Oṃ Namo Bhagavate Vāsudevāya). She partook only of milk (payo) for these twelve days and the fast successfully culminates on Dvādaśī in the bright fortnight of the month of Phālguṇa.
⚫ Lord Viṣṇu was pleased with Aditī Mātā and appears before her. She worships the Lord as Yagya-Puruṣa with a stuti and He, in turn, promises to appear as her son, and younger brother of Indra (Upendra) in the form of Vāmana Bhagavāna. However, this boon must remain a secret between the two as the Daityas have Dharma on their side and can only be appealed to, not defeated at this time.
⚫ Vāmana Bhagavāna manifests on Śravaṇa-dvādaśī from the womb of Aditī Mātā, appearing first in His original form with conch, disc, club, and lotus adorned in His hands, and dressed in yellow.
⚫ The Lord then assumes the form of a Dwarf, and celebrations and jubilations for the son of Aditī Māta and Ṛṣi Kaśyapa replete with prayers and prescribed rituals are duly completed. At the sacred thread ceremony of Vāmanadeva, the Sun-God personally uttered the Gāyatrī mantra, Bṛhaspati offered the sacred thread, and Kaśyapa Muni offered a straw belt. Mother Annapurṇā herself grants alms at his sacred thread initiation ceremony. (Śrīmad Bhāgavatam 8.18.14-19)
Raja Bali's Surrender
⚪ After the Brahmacārī Vāmana Bhagavāna is welcomed at the Yagya by King Bali and assured of whatever he desires as a boon, he asks for three paces of land to be measured by His own footsteps.
Sensing something amiss, Bali's Guru Śukrācāryaji sees with divine insight that this is none other than the Lord seeking to thwart his disciple's desired goal of heaven to achieve the goal of the Devatās and warns him not to proceed! Overruling this advice, Rājā Balī proceeds to perform the sacred Saṅkalpa to grant the land and immediately the Lord begins to expand into His vast (Virāta) form of Trivikrama.
⚪ Rāja Bali, surrenders three foot-lengths:
In His first step, He will occupy all earthly land; 
In His second step, he will occupy all heavenly land
However, the Lord asks in anger; where should I place my third step? Rājā Bali then humbly offers his own head (the ego of being the giver of all else) as the third step and with this the Lord accepts not only all that belongs to Rājā Bali but also accepts Bali himself forevermore. 
⚪ padam tritīyam kuru śīrṣni me'nijam – Vāmana Bhagvāna placed His foot on Bali's head, and took measure of his ego, The Lord had taken Artha, Dharma & Kāma away, leaving no-doubt for Rāja Bali's liberation and hence when such Dāna is given, we reference it as 'Balidāna'.
⚪ Rāja Bali pledges three foot-lengths of land to Vāmana Bhagavāna, and in two-foot lengths he gave all things (mine-ness) and in one he gave himself (ego). Bhakta Prahalāda arrives at the scene and is overwhelmed with loving devotion to see the Supreme grace of the Lord to forcibly make his grandson his very own! 
🔔 To Learn-More about Grace of Vāmana on Rāja Bali: 
☀️ Did-You-Know?
King Bali gave three foot-lengths of land to Vāmana Bhagavāna, and in two-foot lengths he gave all things (mine-ness) and in one he gave himself (ego) 🎧 Click-below to Listen:
🔔 Share your answer or a fun-fact in the comments section below……
About this Article
This is a part of an ongoing series to learn a Shlok a week from the Purushottam Maas Shrimad Bhagavat Katha by Pujya Bhaishri Rameshbhai Oza.
We hope devotees are able to savour a few fun facts on these verses with an enhanced interest for the context and divine nuances through this series.
This Article is the 16th in the 'Shlok of the Week' Series.
Series by:
Rishi Harshitbhai Shukla
Nimishaben Sadhu (India);
Rajeshbhai Purohit (UK).
#ShrimadBhagavat #Mahatmya #ShlokOfTheWeek #SVN_SOW #ScriptureOfLove