Sandipani Covid Relief – Update
Under the guidance and blessings of Pujya Bhaishri Rameshbhai Oza, Sandipani Vidyaniketan and it's Global Charitable Trusts' are supporting the Covid Relief efforts in India in a number of ways.
For more information from your local division and/or to join the Covid Relief Efforts in India, contact:
🇮🇳 You can donate online via the Sandipani Website here or email contactus@sandipani.org
🇬🇧 You can donate online via Sanskruti Foundation U.K here or contact Bhavitbhai Mehta on +447961976669
🇺🇸 You can donate online via Sanskruti Foundation USA here or Arvindbhai Patel on +13138509937 or email sfusa@sandipani.org
🇺🇸 Ashokbhai Mehta on +19733347107 or email ashokmehta9@optonline.net
🇹🇿 Rishi Bharatbhai Dave on +919925196311 or email contactus@sandipani.org
🇦🇺 Yoginiben Patel on Yogini.patel@boq.com.au
All funds received will contribute directly to this cause with 0% admin.
Update as of May 22nd, 2021
✴️ Over 2,500 Families in and around Porbandar, Devka (Amreli Dist.), Rajkot (Metoda) have already received Food Grain Kits of 20kg. Another 1000 Kits are currently being prepared for distribution to those afflicted by this pandemic.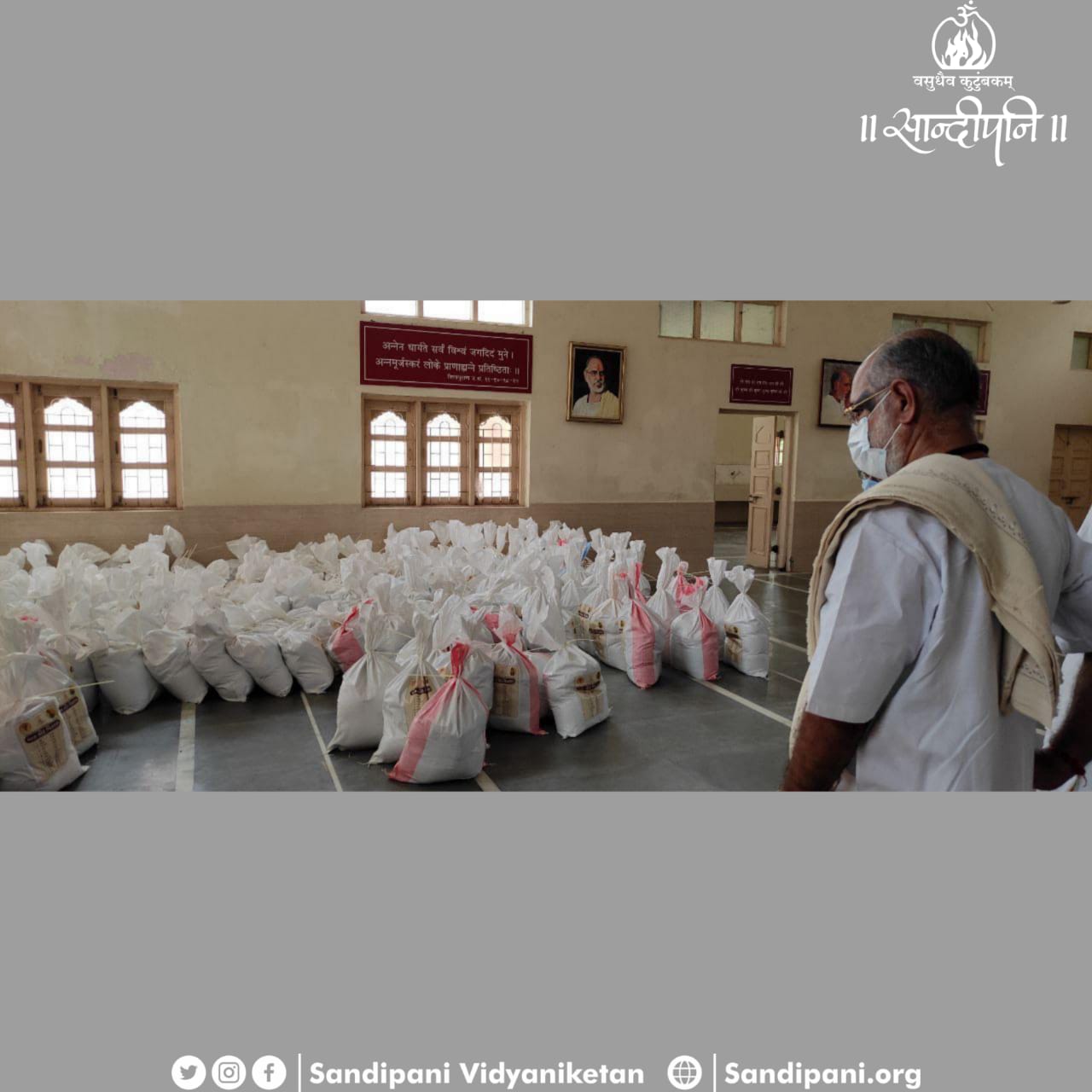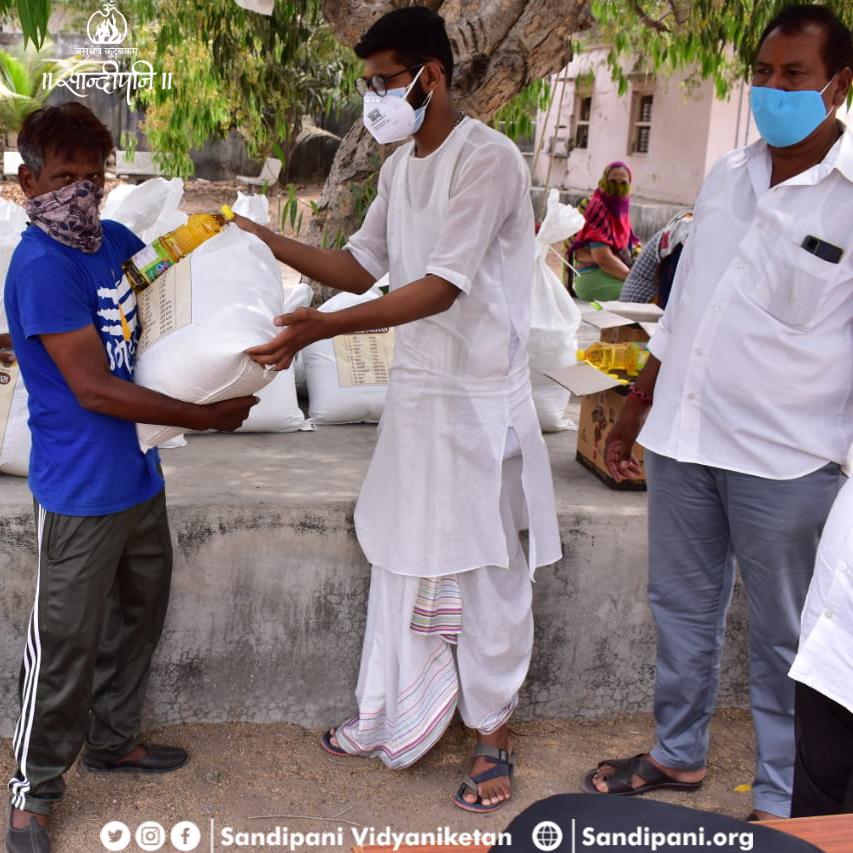 ✴️ 20,000L Cryogenic Oxygen Tank sponsored by Sandipani Vidyaniketan delivered and currently under installation at Bhavsinhji General Hospital in Porbandar under the leadership of Pujya Bhaishri Rameshbhai Oza.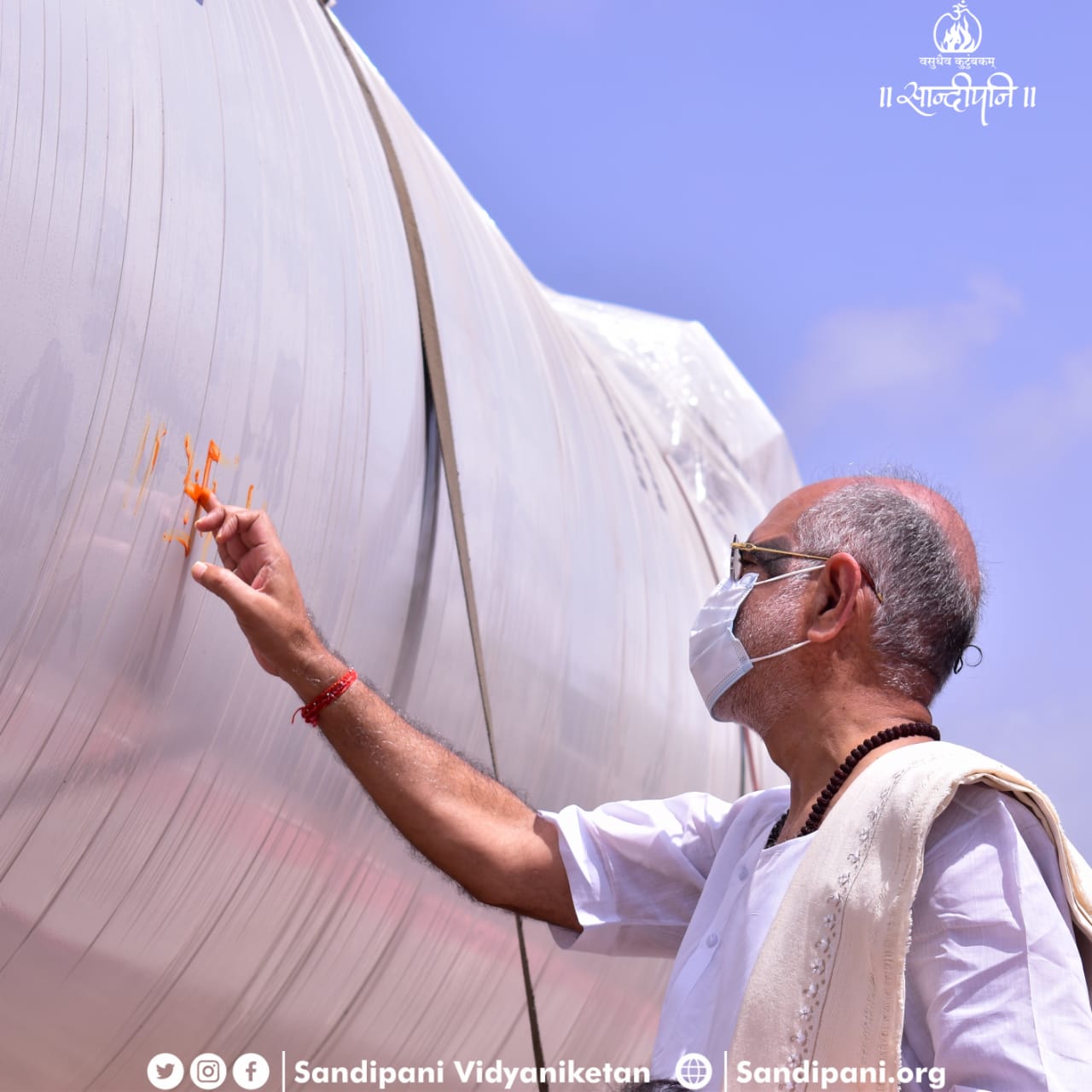 ✴️ Sandipani Vidyaniketan has been able to source and sponsor 40 oxygen concentrator units; of which 25 have already been installed. Procurement and supply 600 flow meters and humidifiers (regulators) also form part of the Covid Relief Efforts.
Update as of May 10th, 2021
Cryogenic Tank
Primarily, a 20,000 litre mobile cryogenic tank, which stores liquid oxygen, will be delivered and installed at Bhavsinhji General Hospital in Porbandar. The tank will be connected with a vaporizer to convert oxygen from liquid to gas form which can be directed through copper piping to 250 beds in the hospital.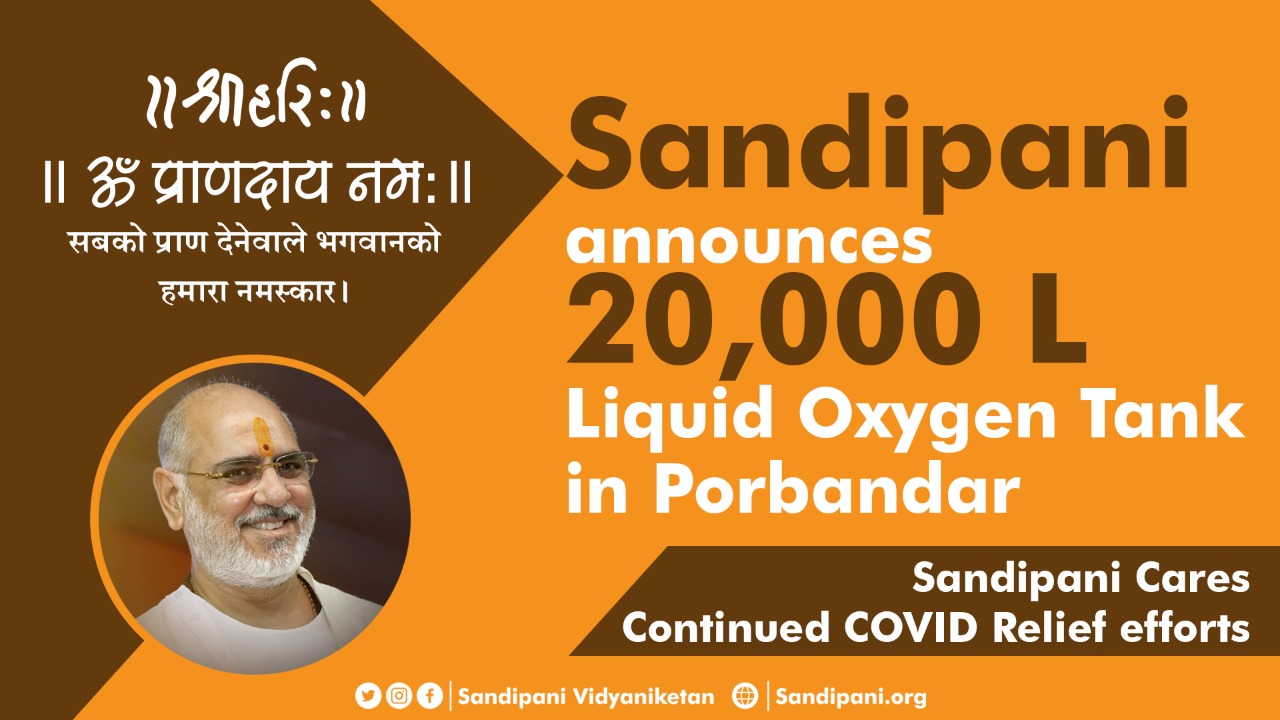 The tank will offer life-saving support to hundreds of patients and will become a permanent fixture at the hospital, which is offering free medical treatment to all local citizens. The total project will come to a cost of Rs 4.5 million (or approximately £50,000 or US$ 60,000). Preparations to house the cryogenic tank and connect all copper piping to the covid wards are being made before delivery of the tank is made by 10th May.
Oxygen Concentrators
While arrangements are made for the cryogenic tank, Sandipani Vidyaniketan has been able to procure 50 Oxygen concentrator units to be installed at the hospital over the coming few days. This initiative will continue with the procurement of additional units.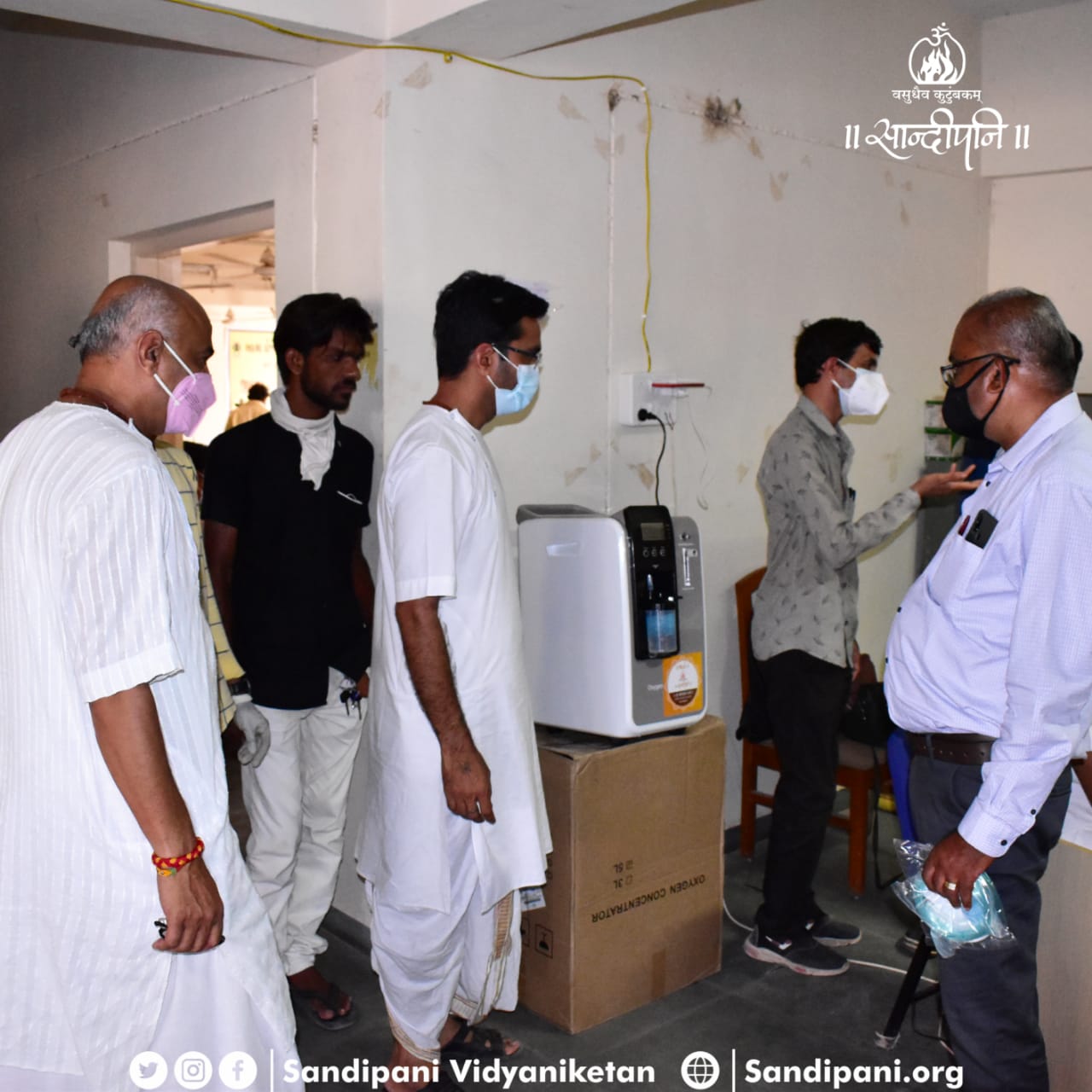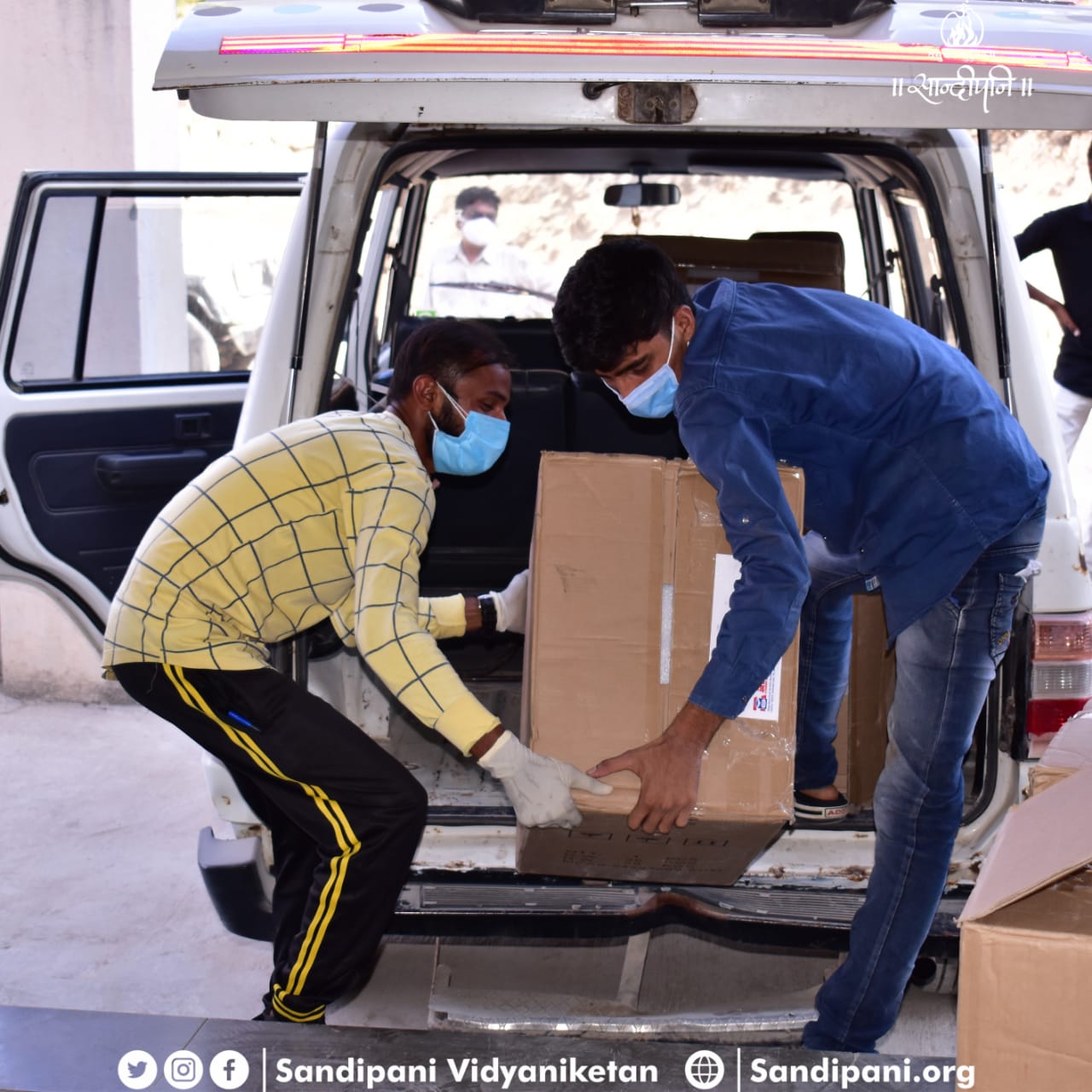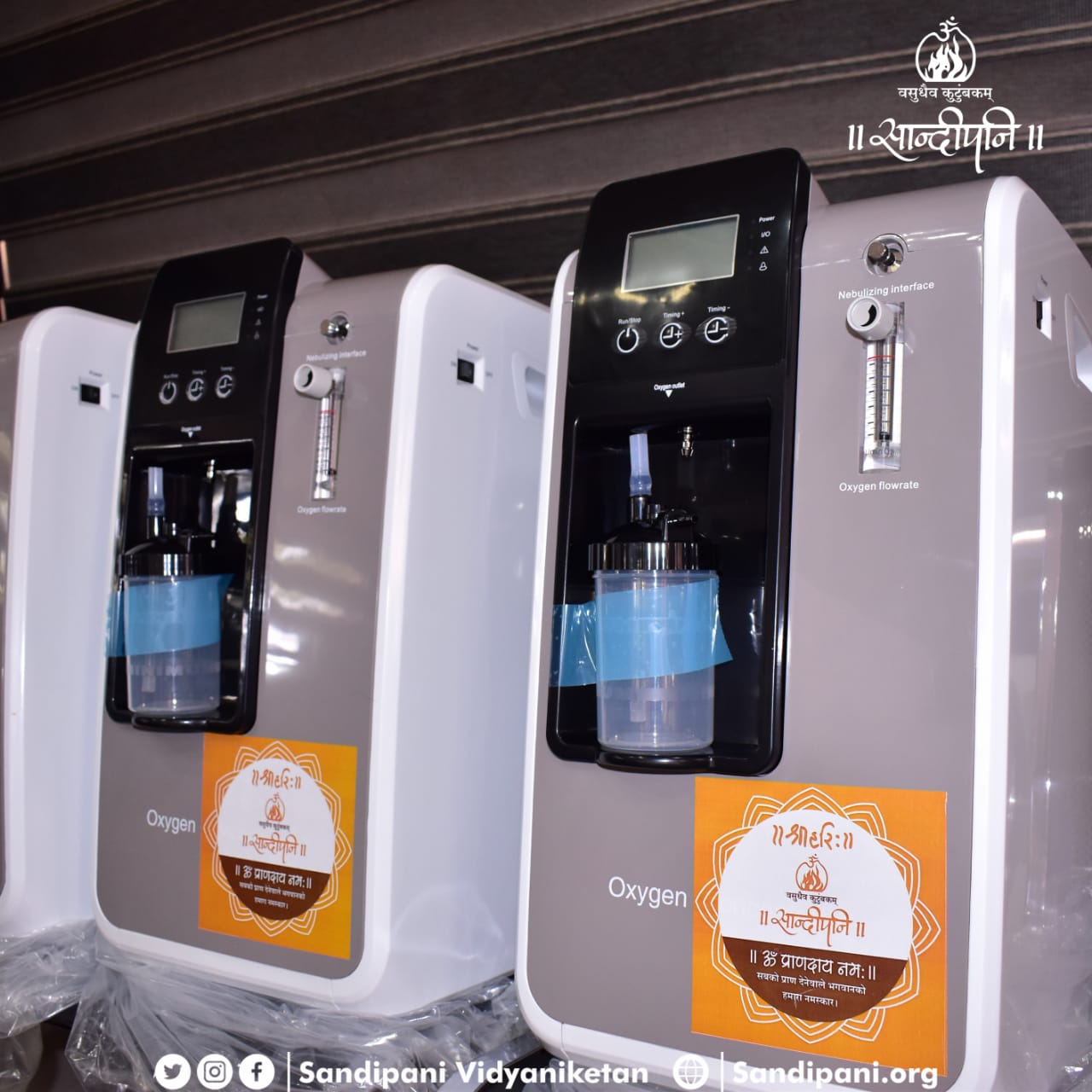 Food Kits
In addition, Sandipani Vidyaniketan is preparing 20kg Food Kits to be distributed to local families most in need. These Kits come at a cost of Rs 1100 (or £11 / $15) each, and can support a family of four for a fortnight. They contain: Wheat, rice, moong, sugar, oil, salt, chick peas, tea leaves, chutney, ground cumin, turmeric and mustard seeds.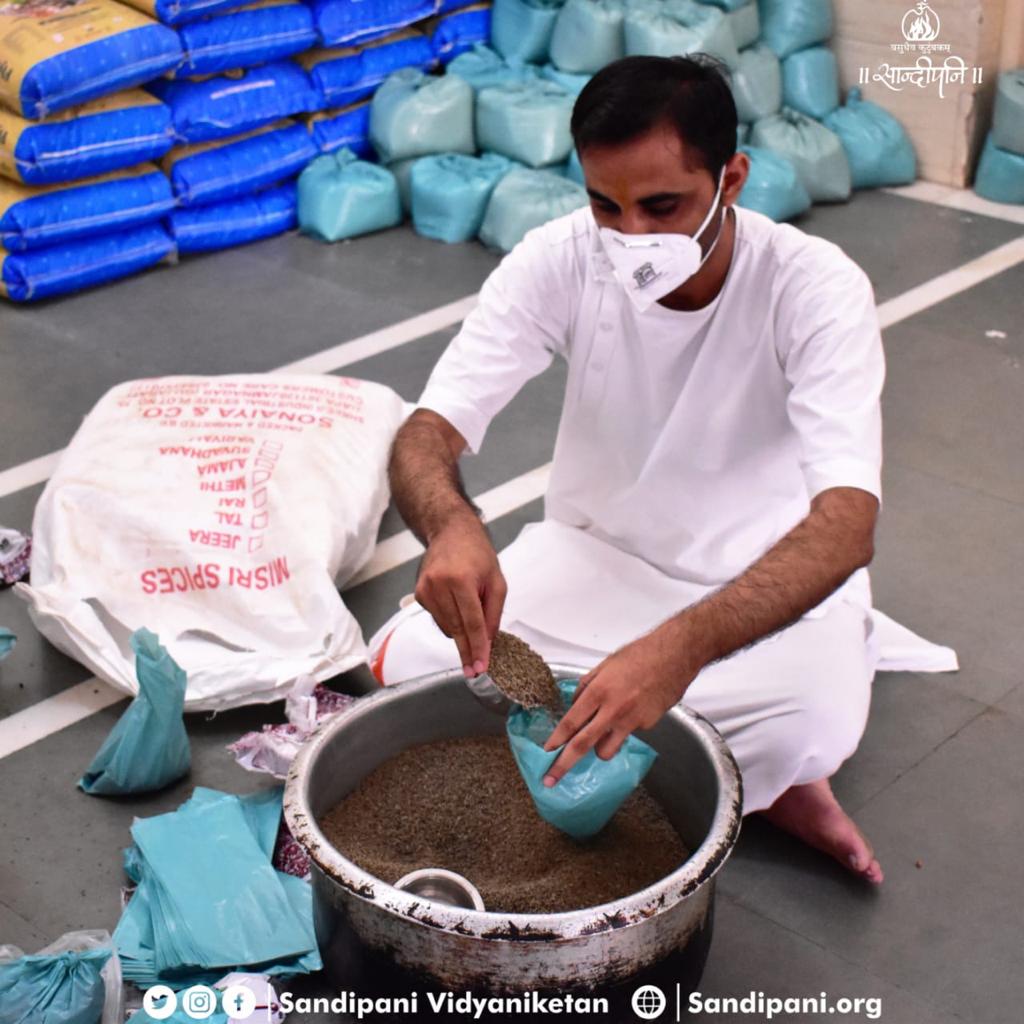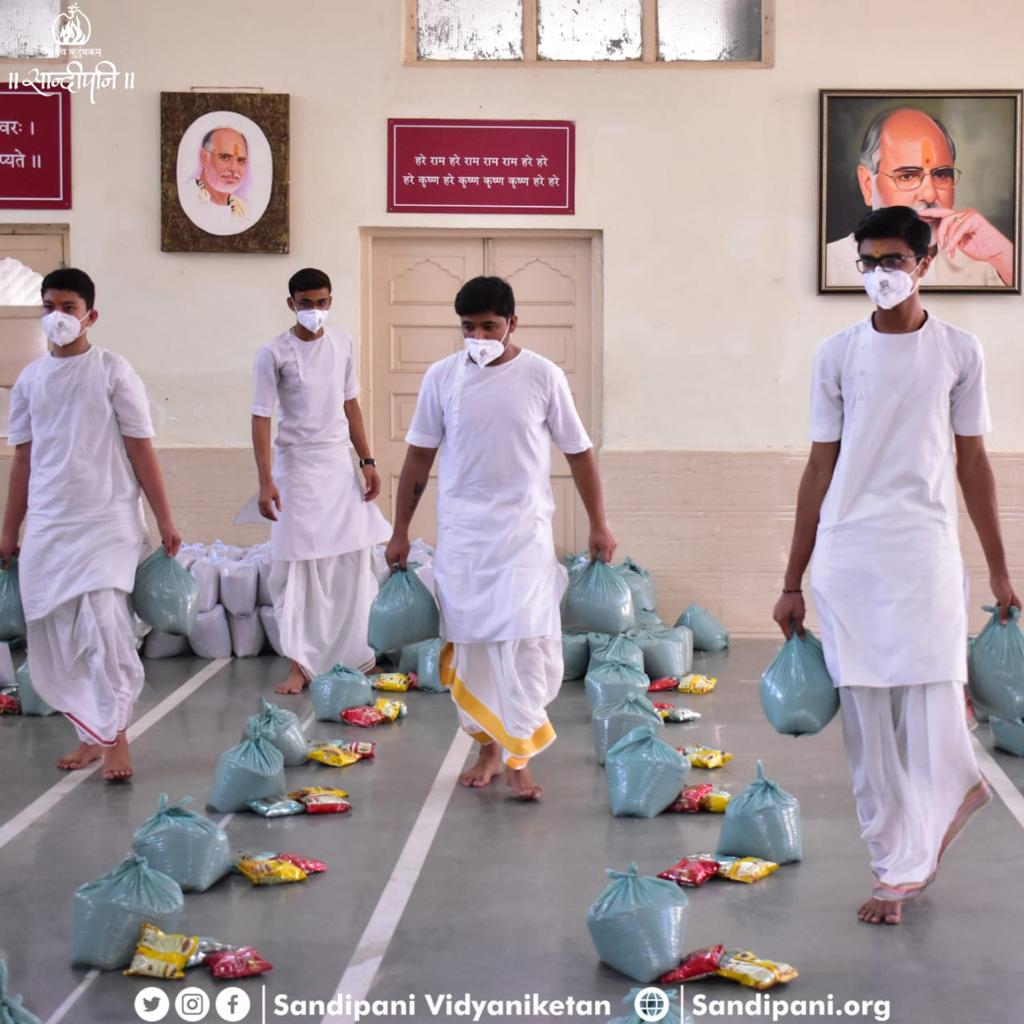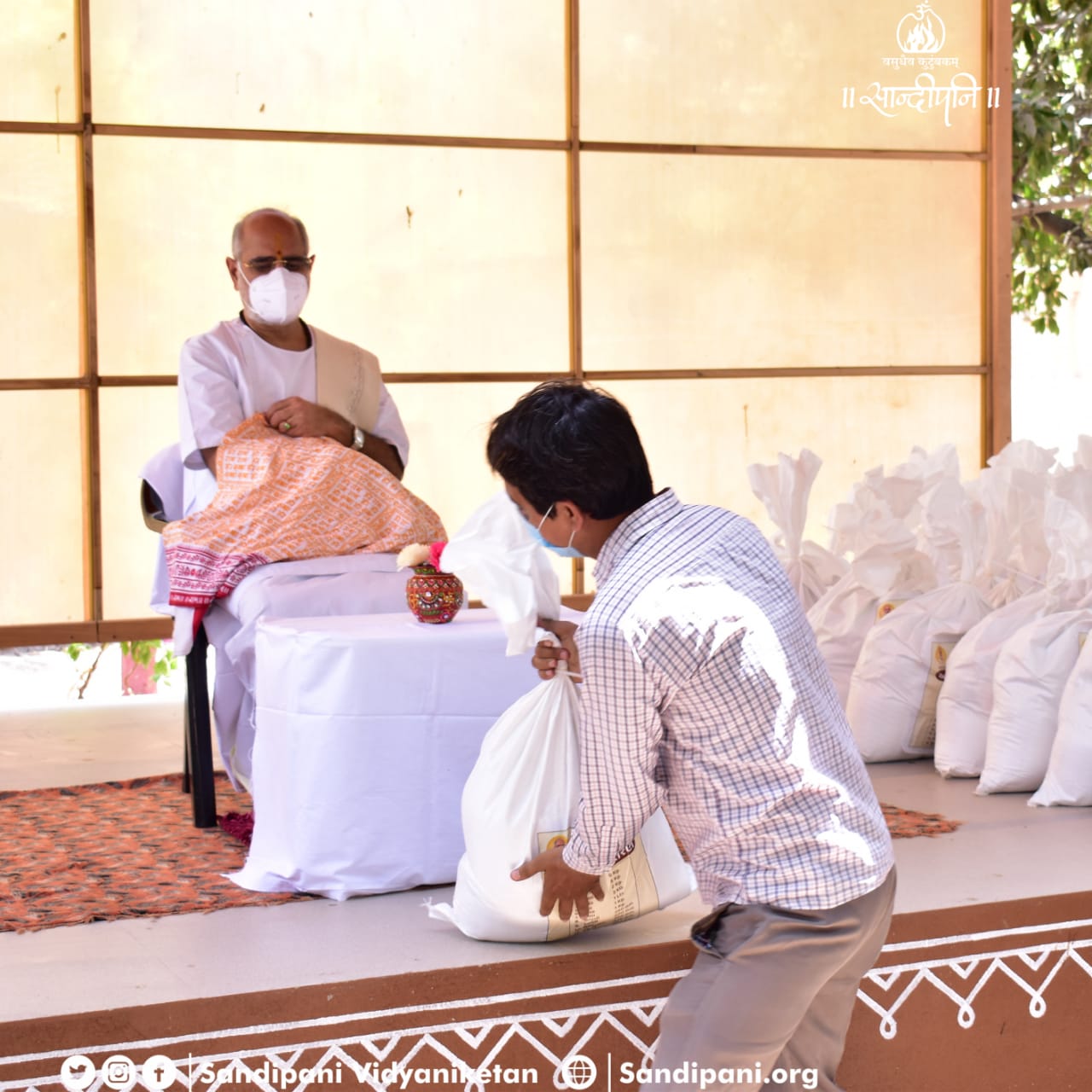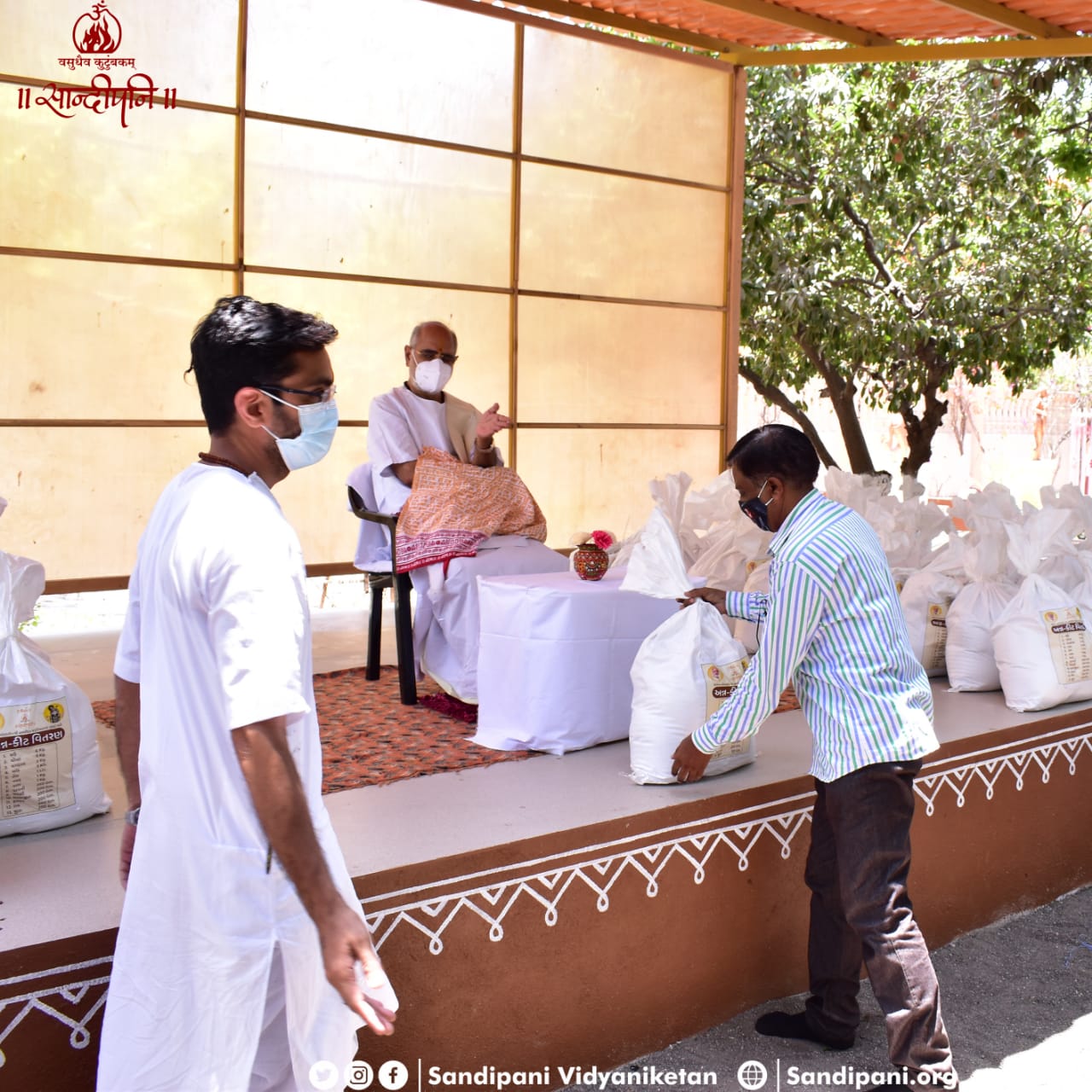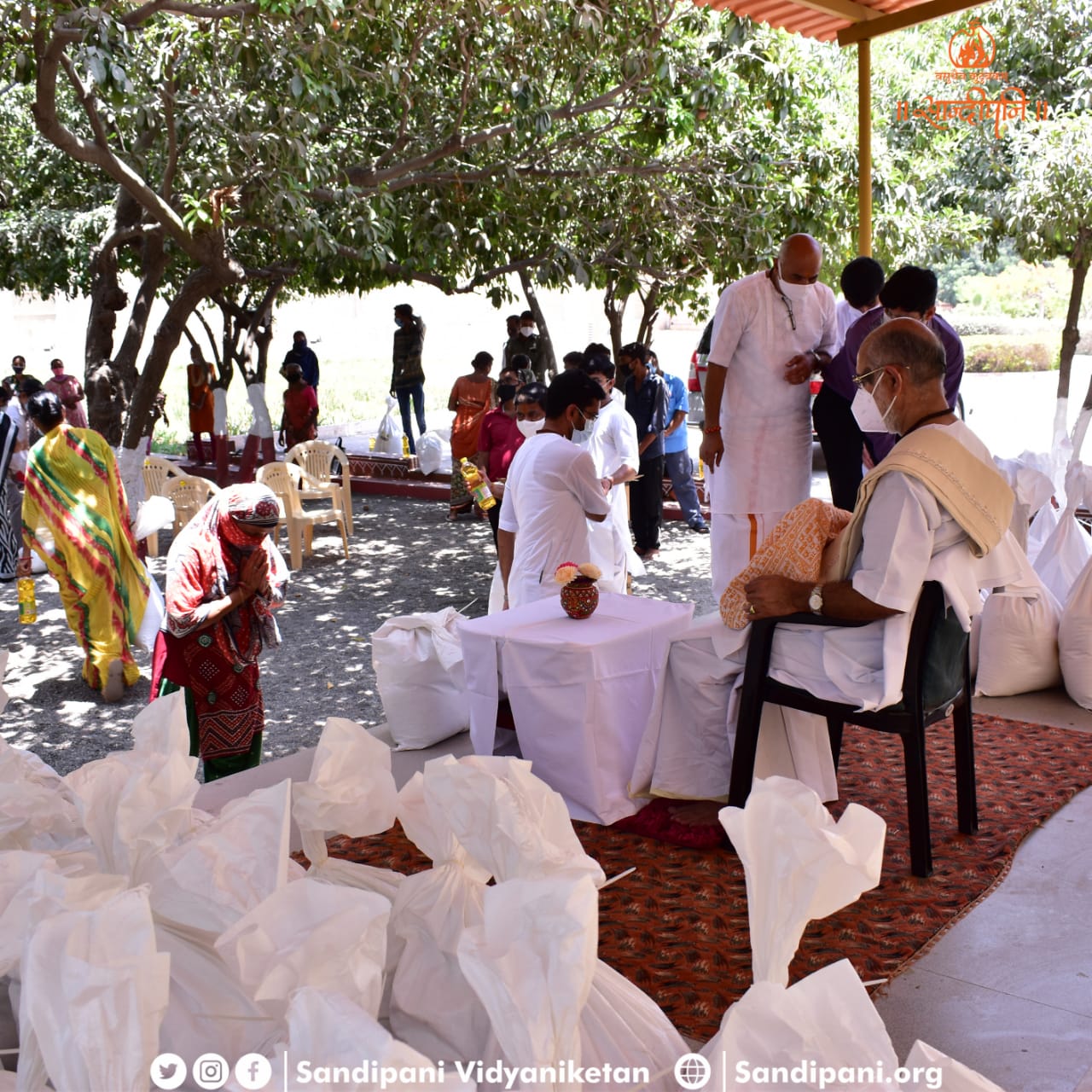 Oxygen Generation Plant
In the longer term, efforts are being made for an Oxygen Generation Plant to be obtained and installed within the Sandipani Vidyaniketan campus, which would allow cylinders of Oxygen to be filled and distributed to people's homes in the nearby vicinity. These cylinders will be provided with flow metres that allow the oxygen to be released from the cylinders. Efforts are being made to procure between 500 to 1000 flow metre units. Plans for the Oxygen Generation Plant are still in early days, but with the blessings of Shri Hari and Pujya Bhaishri, we hope to make this project come to fruition.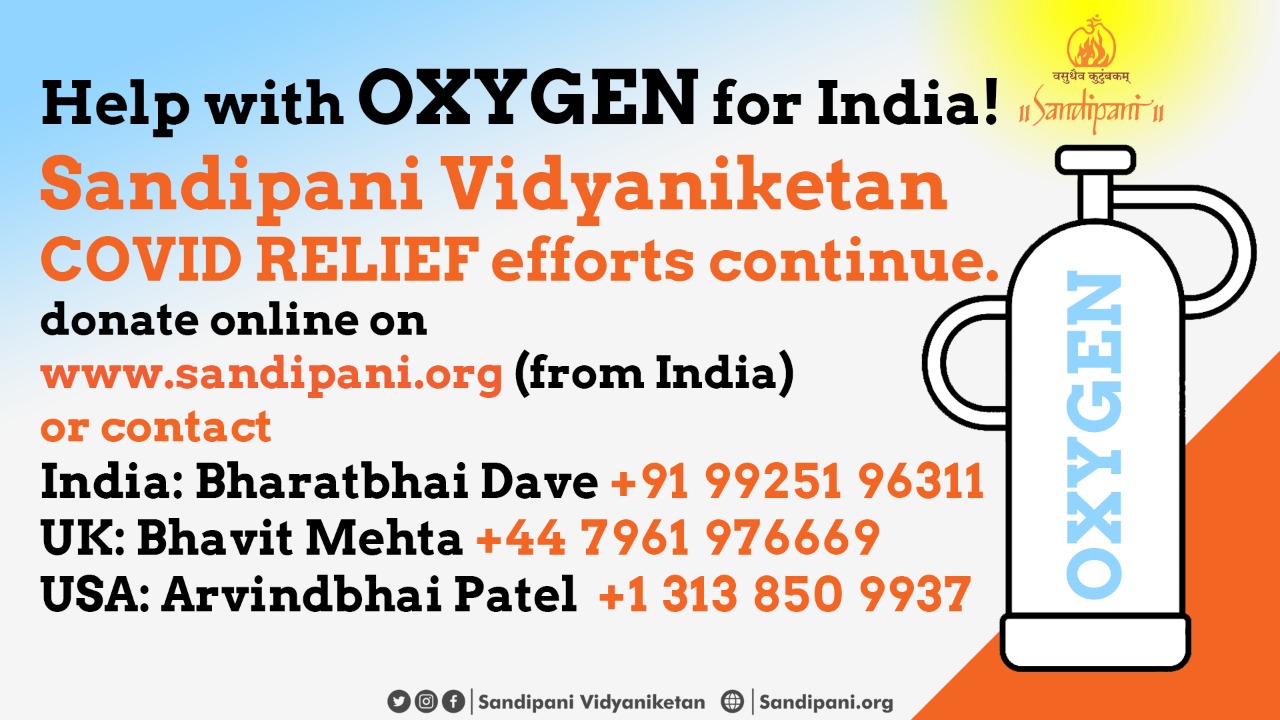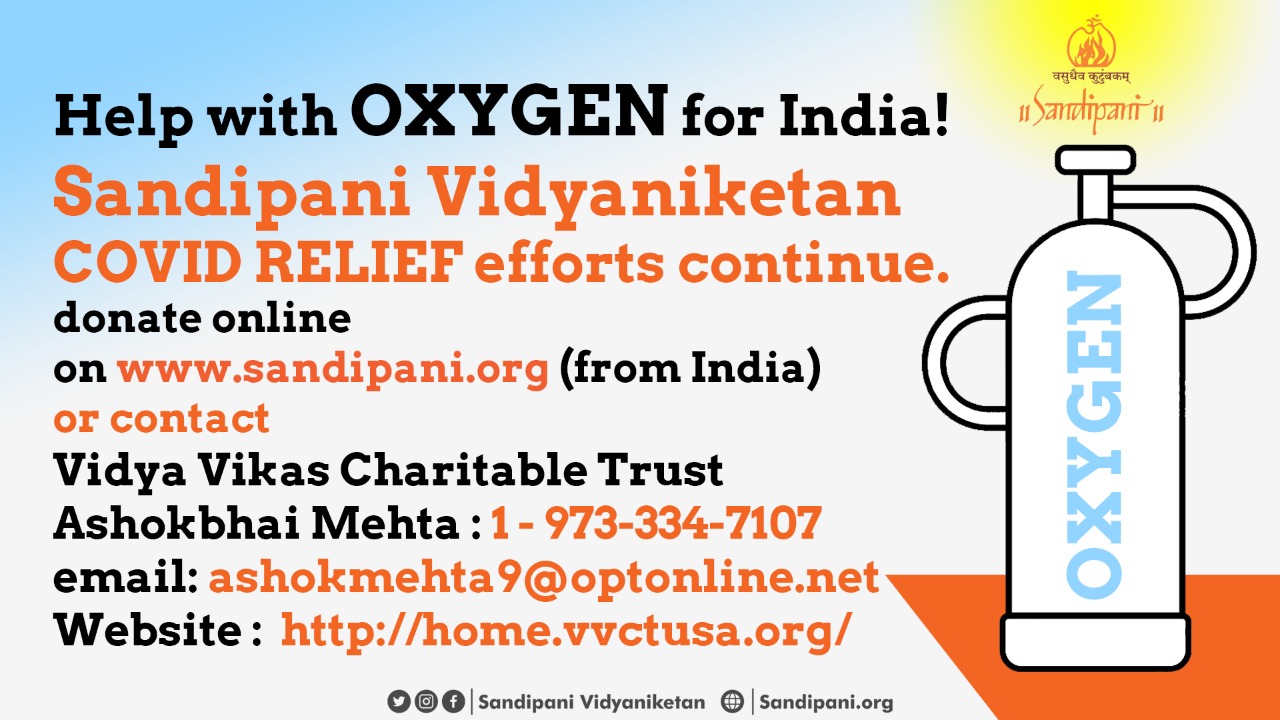 Pujya Bhaishri has expressed his desire to ensure these seva projects are carried out with professionalism, care and speed so that maximum lives can be saved, not just now, but for future possible Covid19 waves.